Sunday, 9th August 2020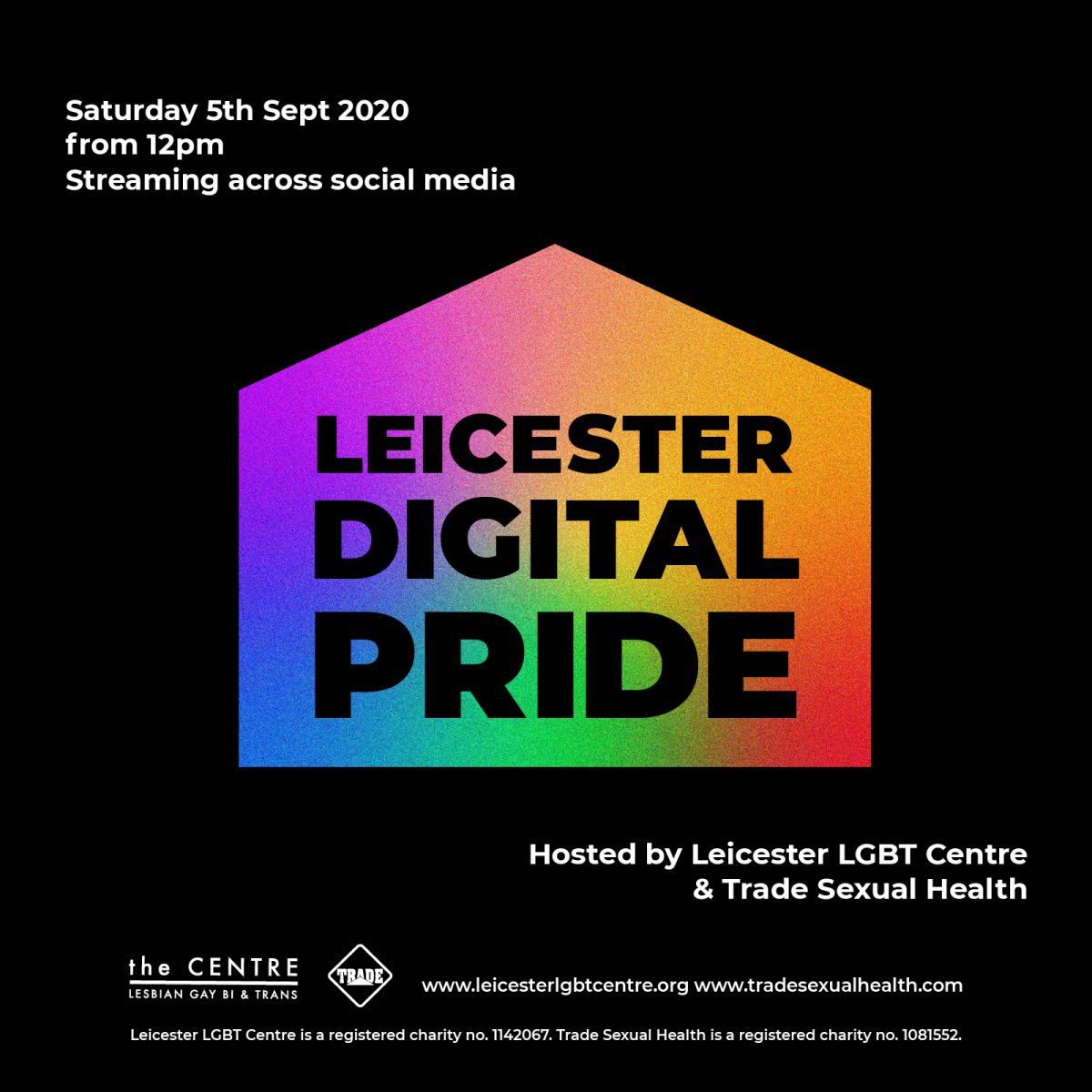 Leicester LGBT Centre and Trade Sexual Health are proud to announce their LGBTQ+ community digital collaboration event, Leicester Digital Pride.
After identifying a gap in the local LGBTQ+ calendar when Leicester Pride was postponed due to this year's Coronavirus pandemic, the two Leicester-based LGBTQ+ organisations got together virtually to explore the opportunity of a digital, online event with contributions from the whole LGBTQ+ community across Leicester, Leicestershire & Rutland on Saturday 5th September 2020.
Over the last few weeks we have done a shout out to anyone who wants to get involved in submitting content for the Digital Pride event, including the opportunity to take part in Leicester's very first Digital Pride March wherever you are.
Take part in the Digital March!
The Digital Pride event will also showcase local talent, including musicians, singers, drag acts and spoken word artists, as well as a variety of interactive experiences for you to get involved with, including art and crafts, Q&A sessions, and online social space and a pub quiz.
As with a physical Pride event, there will also be an opportunity to virtually explore the Marketplace, where you can find out more about local social and support organisations that are there for you.
Throughout the day, there will also be educational snippets from LGBTQ+ community members and allies around the history of Pride, talking about their own experiences being part of the community across Leicester, Leicestershire & Rutland and sharing some facts that you may or may not know about about the local, national and international LGBT+ movement.
The whole event will be streamed on Facebook and YouTube through our dedicated Leicester Digital Pride pages, starting from 12pm:
The full programme will be available at least one week before the event on Saturday 5th September, so keep an eye on this page as well as the social media pages for Leicester Digital Pride.
Facebook: www.facebook.com/LeicsDigiPride
Instagram: www.instagram.com/LeicsDigiPride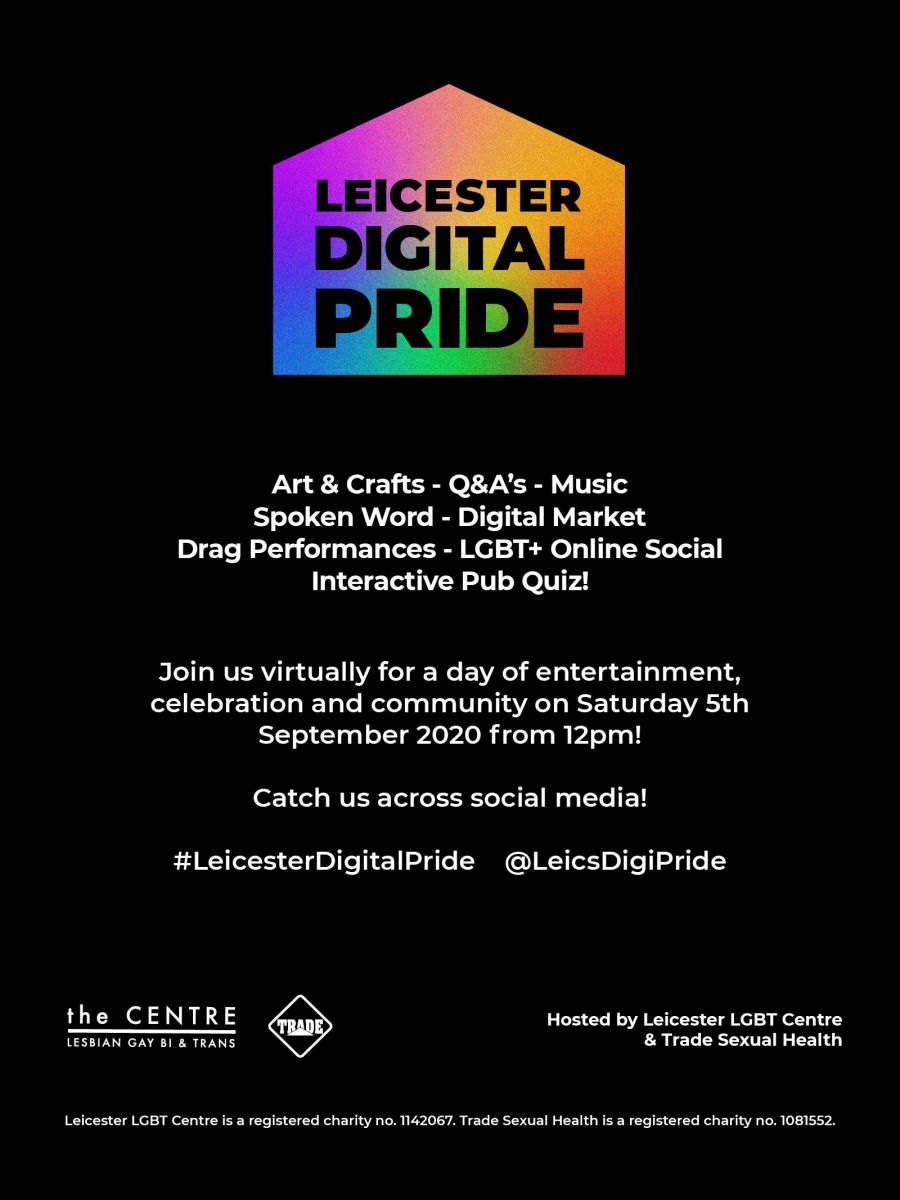 Take part in the Digital March!
For Leicester Digital Pride, we're aiming to put together a Digital Pride March.
For this, we willl be asking anyone who wants to get involved to send in the following:
photos or short videos (5-10 seconds) of yourself or with friends/family/partners/pets (in adherence to social distancing guidelines) at home or different locations around your city/town/village, showing off your best Pride attire, along with flags, banners or signs as you would hold up within a physical Pride March.
photos or short videos from previous Pride events that you have attended (either in Leicester or somewhere else)
Please ensure that all photos and videos are in landscape (where possible) and at the highest resolution available to you.
The more fun and creative you can be, the better! It would also be great to capture your photos and videos at the variety of landmarks across Leicester, Leicestershire & Rutland to really make sure that this Digital March reaches across the whole area.
If you're going to be out and about capturing your photos or videos, please make sure that you follow social distancing guidelines that are in place in your area (2m apart in outdoor locations, or 1m apart with a mask on).
Once you have got your photos and videos, please email them to info@leicesterlgbtcentre.org
Deadline for submissions: Friday 28th August 2020 at 12pm
---
By submitting your photos/videos, you are agreeing for them to be used for the purpose of the Leicester Digital Pride March only. The Pride March will be streamed over social media, including Facebook and YouTube. Once these photos/videos have been used for this purpose, the files that were sent across to the email address above will deleted. Photos/videos may still be viewable after the event has streamed on the Leicester Digital Pride Facebook and YouTube profiles. Please get the permission of all people in the photos/videos where possible.